Adopt a Cat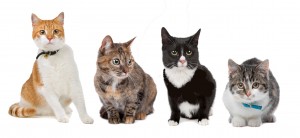 Browse Our Cats who are up for Adoption
Interested in adopting a cat?
Are you ready to give a loving fur-ever to one of these precious little creatures?
The first step in our adoption process is for you to fill out our Adoption Application
Please feel free to call ahead and let us know if you are interested in adopting so we can put a hold on your kitty until the process has been completed: 250-462-8195
What Happens Next?
Once your application has been reviewed by our Adoption Facilitator, she will call you for an "interview". You MAY be asked to submit to a 2nd in-person interview and/or a home visit.
Adoption Time!
Once your kitty is ready to go and you have been approved, you will need to pick him/her up!  Please ALWAYS bring a quality cat carrier as it is unsafe to take your kitty in a vehicle without one.  You will be asked to sign an Adoption Contract and pay your adoption fee.  Unless otherwise noted, the adoption fee for all alleycats and alleykittens is $160. This includes wellness exam, 1st indoor vaccinations (and sometimes 2nd), spay/neuter, deworm and tattoo.  (Currently, a spay alone can cost around $450 dollars), that's it!  You get to go home and enjoy your new kitty!