Join us at Tug's Tap House on October 17th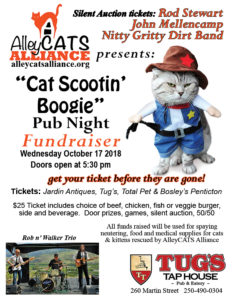 AlleyCATS Alliance is proud to present:
"Cat Scootin' Boogie"
Pub Night
Time: 5:30 – 9pm
Date: Wednesday, October 17th
Location: Tug's Taphouse on 260 Martin Street, Penticton
Program: (placed on tables)
Doors open:           5:30pm
Band starts:           6:00 – 6:45pm
6:00pm:                 50/50 tickets sold throughout the evening
6:45 – 7:15pm:      Food and bidding, trip the trap, door prizes, silent auction
7:15 – 8pm:           Band-music-dancing-party
8pm:                       Wrap up final bids of auction.
8:30pm:                 Winner of Trip the Trap prize items
Announce winner of 50/50
Band plays a few more songs to finalize and end the event
Featuring live musical entertainment by The Rob n' Walker Trio, a silent auction, door prizes, 50-50 draw and other fun activities.
Tickets are just $25, which includes your choice of beef, chicken, veggie or fish burger with salad, soup, fries or chips n salsa and either a beer, wine or cocktail!
100% of the funds raised from our Cat Scootin' Boogie Pub night event will be used to care for the cats & kittens rescued by AlleyCATS Alliance.
Tickets available at: Jardin Antiques (OK Falls), Total Pet (Penticton), Bosley's (Penticton), and Tugs Tap House (Penticton).
THANK YOU FOR YOUR DONATIONS!
Cynthia Kereluk and Paul Rodgers, Summerland
Prospera Place, Kelowna
Marielle Brule, Grant Thornton, Penticton
Mission Hill Winery, Kelowna
Dream Café, Penticton
Purple Pig Web Design and SEO Company, Kelowna
Valley First Credit Union, Penticton
Great Estates Okanagan Wine Experience Centre, Penticton
Cheryl Hubbard Bookkeeping, Penticton
Upper Bench Winery and Creamery, Naramata
Maple Leaf Spirits, Naramata
Caps Liquor Store, Kelowna
Castanet Penticton
Summerland Reflexology
Mission Liquor Store, Kelowna
3 Winds Hair Design, Ok Falls
The Black Iron Grill and Steakhouse, Penticton
Summer Gate Winery, Summerland
Wild Goose, Ok Falls
Meyer Family Vineyards, Ok Falls
Hester Creek Winery, Oliver
Old Order Distilling Company, Penticton
Nature's Fare, Penticton
Melt Mineral Spa, Penticton
Commerce Liquor Store, Kelowna
Starbucks Cherry Lane, Penticton
Peacock's Perch Liquor Store, Summerland
O'Flannigan's Liquor Store, Kelowna
Fire Hall Brewery, Oliver
Pet Pantry, Penticton
Bosley's, Penticton
Total Pet, Penticton
Lordco, Penticton
Jammer's Liquor Store, Kelowna
London Drugs, Penticton
Skaha Salsa, Ok Falls
Pharmasave, Ok Falls
Booster Juice, Penticton
Judy Millar, Kaleden
Barb Hofer, OK Falls
Carolyn Jager, Twin Lakes
Anna Wolleben, Naramata
Joan Lansell, Penticton
Jen Johnston, Penticton
Sam Marcel, Oliver
Jenn Evans
Linda Francescangeli
Wendy Arnett, Oliver
Mary-Ellen Hesselgrave, Oliver
Sarah Riordan, Oliver