Samantha

Looking for her forever home

Frosty

Frosty and his Sibling Softy are still looking for a foster home and or a Forever home, They have been Holidays at Kelowna Vets for over 6 months TOO LONG. Take a Peek all they want to do is LOVE you.

SOFTY

Softy and his Brother have been holidaying at Kelowna Vets way to long and really need a Foster home and or a Forever home. They will Love you more than you can ask for.

Cider and Spritz

These two need a home together

Tonka AKA Tucker

LONG TERM FOSTER HOME NEEDED ASAP

BOO will actually hug and kiss you

DONATE YOUR NATURE FARE RECEIPTS TO ALLEYCATS TODAY

Three - check out his video on our adopt page
AlleyCATS Alliance is a 100% non-profit society dedicated to providing rescue, rehabilitation, medical care and adoption to feral, orphaned cats and kittens throughout the Okanagan Valley.
SOFTY and FROSTY still need a home to provide them some TLC
WE

are doing another

BIG SHOUT

out to ANYONE who can foster or possibly adopted SOFTY and FROSTY.  These two are truly love bugs, yes they do need their noses wiped but no different than wiping a child's or your own.  They have been in Kelowna Vet way too long , over 6 months not a great life for these poor babies really.  Please check them out they truly are dolls.   We would love for them to go together as they are bonded but if need be we will put them in separate homes. Please remember they have to be in homes with NO other cats………..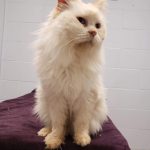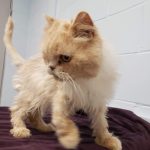 ---
---
DONATE YOUR RECEIPTS TO ♥ALLEYCATS ♥

If you don't already shop at Natures Fare then what a good reason to start and donate your receipts to Alleycats Alliance.  Natures Fare will give us 3% of your purchase,which really adds up and is an easy way to donate.  Bosleys in Penticton and
Kelowna Vets in Kelowna

, accept envelopes of receipts on our behalf, or you can contact us at alleycatsalliance@gmail.com  and we can arrange with you to get your donated receipts.  Even if you live a distance away pop them in the mail; a mailing address can be supplied.   Healthy eating and donating what a balance in life.
ANOTHER PURRRFECT way to DONATE.  
**************************************************************************
!!!!FOSTER HOMES NEEDED ASAP!!!!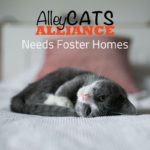 Due to the pandemic WE are one of the animal rescues, still trying to keep up with the demand of rescuing homeless cats.  With some of the Pet Stores that partner with Alleycats not being able to house cats for adoption at this time, We need about 10 additional  foster homes.  All that is needed is a spare room for one or two cats and all you need is to provide a little time and love.  
If interested please fill out a Foster Application or if you have any questions please e-mail us at alleycatsalliance@gmail.com.  ♥ Give a little love during this isolation time ♥ 
Here are some of the cats looking to be fostered.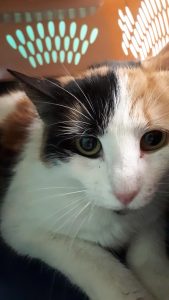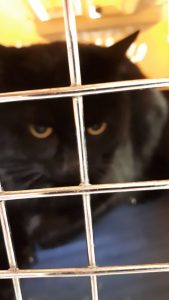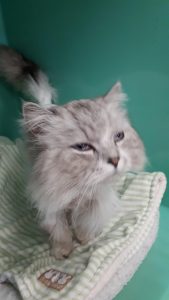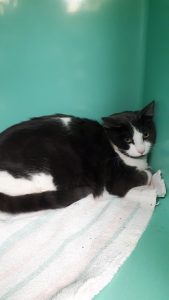 **************************************************************************
COVD-19 Virus
The Board and Volunteers of Alleycats Alliance would like to convey our understanding of the Crisis we are going through and hope that everyone is keeping safe and healthy. 
As this is an unpredictable time for everyone, even the homeless and unwanted animals.  We are still trying to succeed in helping as many cats as we can.  Without being able to fundraiser or hold adoption events, it is going to be very trying.  PetSmart Kelowna is still allowing us to house cats and kittens, so we thank them for that, but we still need Foster Homes to house the cats we have in care. 
We are also still asking for Cans and Bottles, we can set up a NO contact pick up with you.  Please e-mail us at: recyclingforalleycats@gmail.com   and we are still accepting donations as any little bit helps.     
We hope this crisis is short lived and WE  truly wish everyone and all animals  good health and love.
With Thankful Hearts,
AlleyCats Alliance..                 
*****************************************************************************************
NEW Cat(s) Posted for Adoption
We have a young man named MR Fluffy who is looking for his forever home along with our hug able Boo ,she really does give you hugs, check them out on our adoption page.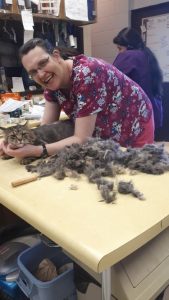 ---
♦◊◊NEWS FLASH♦◊◊
We are looking for a Long Term Foster home for Tonka he is 15 years old, please check him out on our adopt page.  He is only a click away.  ⇒⇒⇒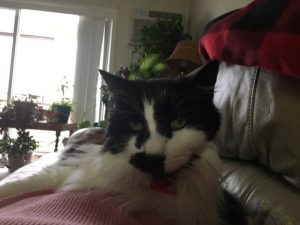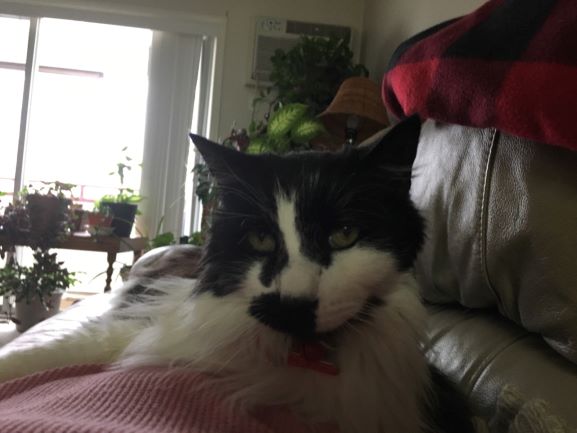 ---
♥♥♥ Please don't forget to check out our cats for adoption we have some very special kitties waiting for you:  Samantha, Cider & Sprits, Softy & Frosty, Boo, Three, Tonka and Aristia.

♥

♥♥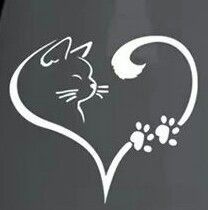 ---
CALLING ALL VOLUNTEERS
⇒Cat Care at Petsmart- various shifts available –  you get to feed/clean and play with the cats/Kittens help make a big difference in their lives while waiting for their forever homes (fill out volunteer form)
⇒Secretary Treasure – send e-mail to Alleycatsalliance@gmail.com –  if interested
⇒Volunteers for fundraising/brainstorming and helping out with events of all sorts.
******************************************************************
A TIME for THANKS
We would like to wish everyone a very Happy New Year from all of us fellow Volunteers at Alleycats Alliance!
This is the time of family celebrations and feeling the closeness of the family we all love. So at this time we, the board of directors, want to thank all of the volunteers that help us help our mission. We all feel like we are a close family trying to work together, supporting each other in the good and bad. 
Without dedicated volunteers such as yourselves doing things like fostering, trapping, social media, bottle recycling, feeding and cleaning at different locations and pet stores, driving, adoptions and the phoning of other volunteers to get them on board…..our board…we could never exist!
A huge heartfelt thank you to all of you that may do just a little thing and or spend a tremendous amount of time…. with us trying to make a difference, is expediential!
As we move into a new decade, we would like to take this opportunity to thank a couple of very special volunteers that have given many, many hours of their time and now have taken a step back for we hope….for only a short time. 
Taylore Forrest and Antoinette Engel have been the driving force of our bottle recycling program for quite awhile now. We understand that it's a big commitment and thank these two for their many hours of picking up bottles, sorting and dropping off at the bottle depot. It's a stinky messy business but so important for our programs. Another Volunteer that has had to step back for now is Barb Hudson. Barb drove many cats back and forth from Penticton to Kelowna, and was one of the most dependable cleaners we had for our resident cats. 
There are many more volunteers that are doing their part in making this organization as successful as it is and we applaud you. You have had a hand in helping hundreds of lives.

***************************************
FEATURE CATS
Please check out Softy and Frosty under our adult cats for adoption, they are two special boys looking for a loving home.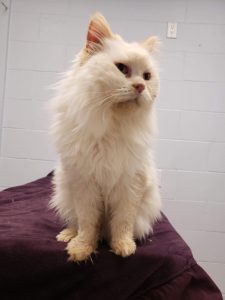 **************************************
ALLEYCATS ACCEPTING BOTTLES:
 WHAT A PURRFECT WAY TO RECYCLE
AlleyCats Alliance has now set up an e-mail address for anyone in the Penticton and Kelowna area who would love to donate their bottles to help Alleycats raise funds to assist in keeping our programs in place.  One of our programs is spaying and neutering cats and kittens.  
We are a small society that relies on donations and volunteer services, so any help is greatly appreciated.  
We thank you in advance,
* * * * * * * * * * * * * * * * * * * * * * * * * * * * * * * * * * * *
ALLEYCATS sends out a BIG THANK  YOU to
TOTAL PET, Kelowna
for hosting a Friday Night Bingo fundraiser, we truly appreciate your ongoing support.  
* * * * * * * * * * * * * * * * * * * * * * * * * * * * * * * * * * * * 
Thank you, Leona Hopman
AlleyCATS Alliance lost one of our very first Foster Moms after a courageous battle with cancer.  Leona Hopman was so supportive of AlleyCATS when we were first getting started.  She and her family were always open to taking in a litter of kittens and working with them until they were ready to head off to their forever homes.
We at AlleyCATS Alliance are extreme sad to hear of her passing and would like to extend our condolences to the family during this hard time.
* * * * * * * * * * * * * * * * * * * * * * * * * * * * * * * * * * * *