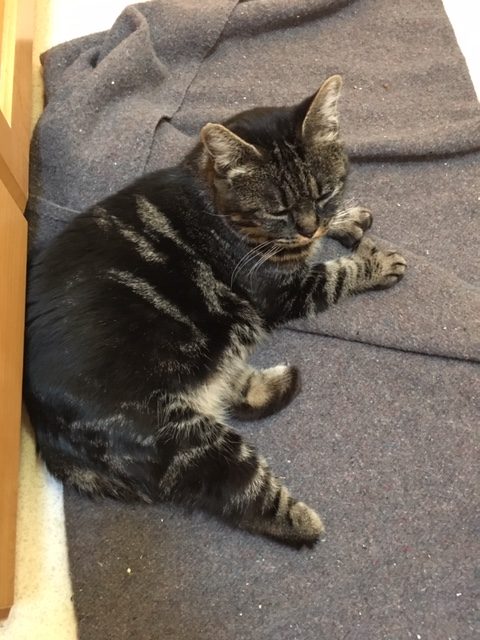 READY FOR ADOPTION!
Has a physical issue with her back legs, they are not fully formed
Age is thought to be about eight years old
Tabby
Domestic short hair
More About Me
Mireille will be available for adoption once her two kittens are old enough to be weaned. She apparently has lived her entire life outdoors and raised many litters of kittens. AlleyCATS was called in to trap her and her two kittens and it was soon discovered that she was not feral but actually very friendly once she felt comfortable. Mireille will require a special home that can accommodate her physical limitations and must have a lot of carpet as her one leg does seem to give her some discomfort when she walks on hard surfaces. Mireille also has a short tail and is a polydactyl which means she has extra toes on her front feet. Truly a special cat and it is a miracle that she was able to survive outdoors with her physical limitations!
Are you ready to give a loving fur-ever to one of these precious little creatures?
The first step in our adoption process is for you select the cat or kitten you want and then fill out an Adoption Application.
The form will be received by AlleyCATS Alliance immediately and we will get back to you as soon as possible.